European Panel Warns British Government Again over Lloyd's Insurance Market
October 17, 2002 12:00am
(c) 2002, Financial Mail on Sunday, London.
Source:Knight-Ridder / Tribune Business News via NewsEdge Corporation : Oct. 16—
The European Commission is threatening fresh legal action against the Government over its alleged failure to regulate the Lloyd's insurance market.
Frits Bolkestein, financial services commissioner in Brussels, has already started legal proceedings against the Government, claiming it did not properly apply an EC directive on audit arrangements at Lloyd's.
Bolkestein said his concerns had been heightened by a recent High Court ruling, which found that investors in the giant insurance market had been exposed to multi-billion pound losses because of the system of auditing.
Now the Commission is threatening the Government with action -- which could lead to a case in the European Court of Justice -- over its current regulation of Lloyd's.
The Financial Services Authority, which took over responsibility for Lloyd's last year, has said it intends to tighten the rules.
Bolkestein also told MEPs that he has not ruled out instigating proceedings over Equitas, the insurance vehicle set up by Lloyd's to handle its asbestos losses.
The EC has received complaints that Equitas is technically insolvent, which it denies. Its accounts are, however, qualified by auditors each year on the basis that it is impossible to estimate future asbestos liabilities.
-------------------
---
back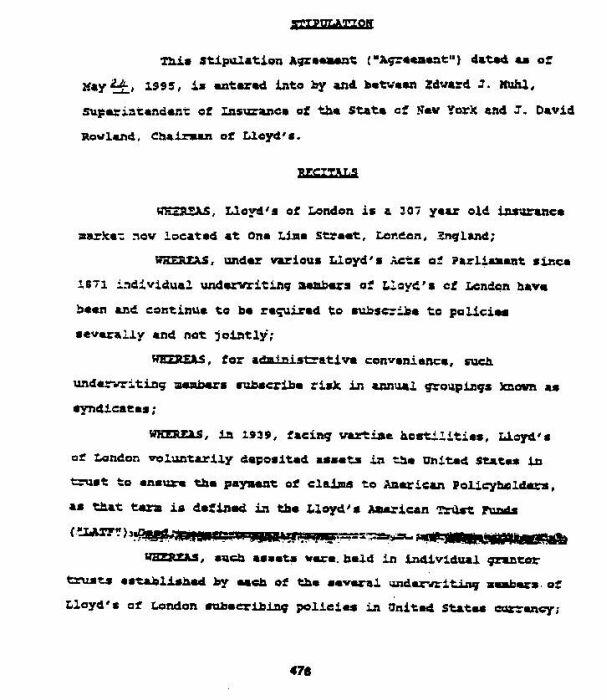 ---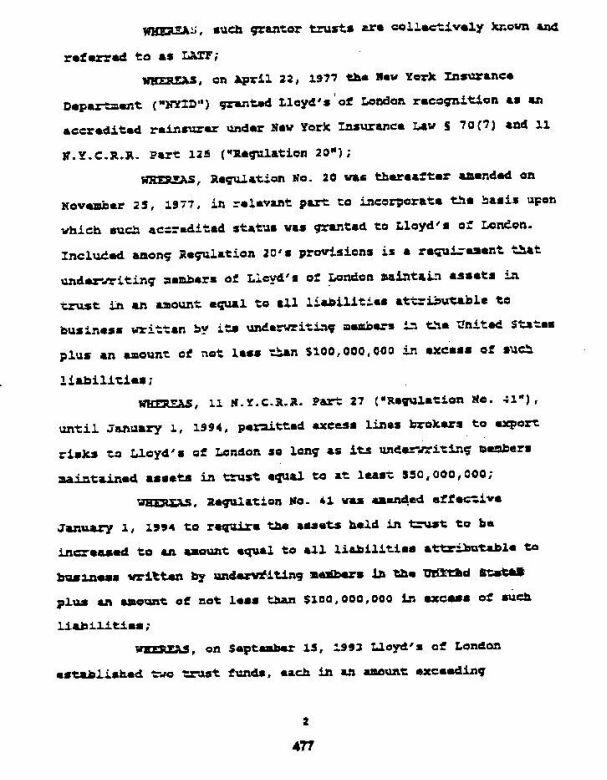 ---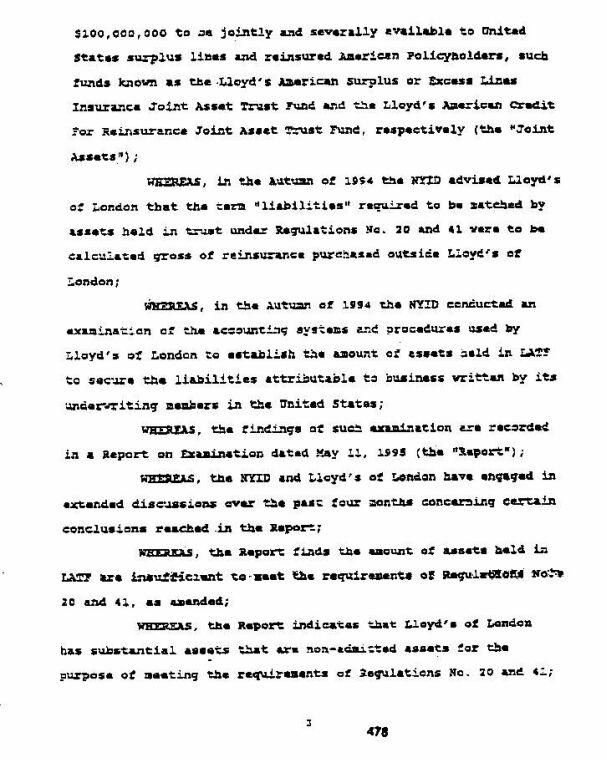 ---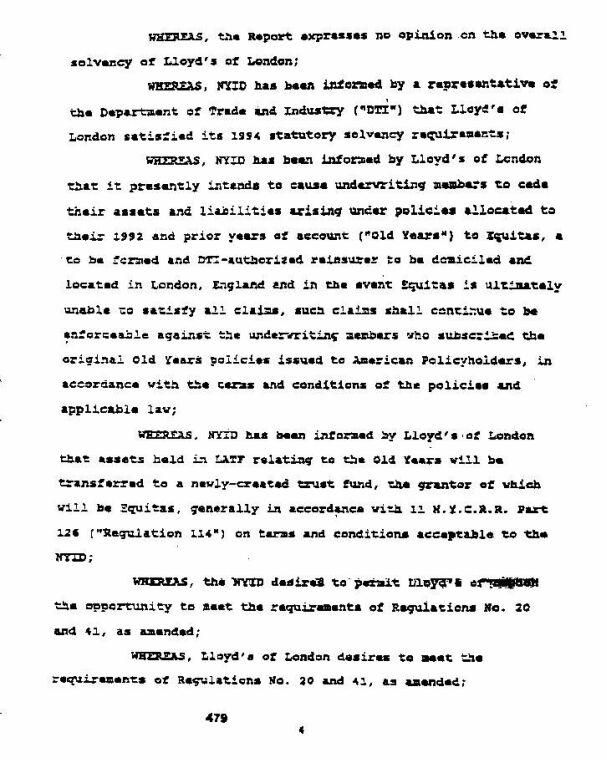 ---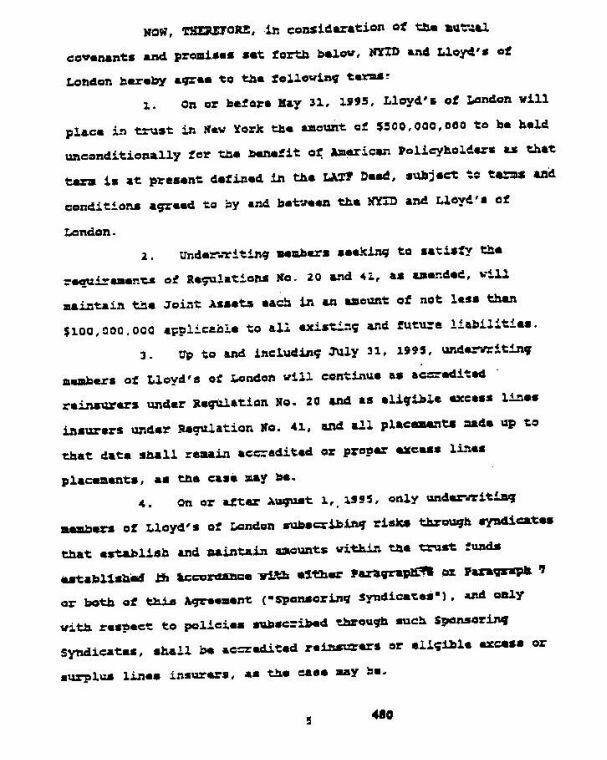 ---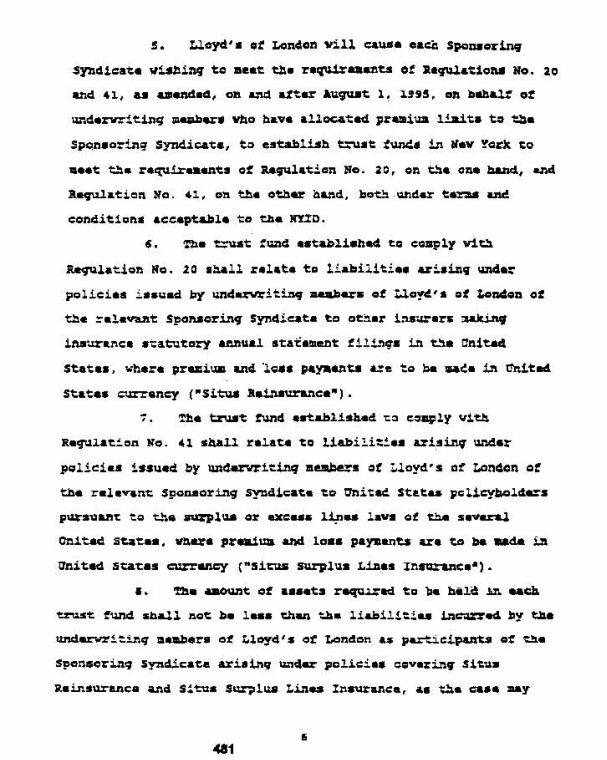 ---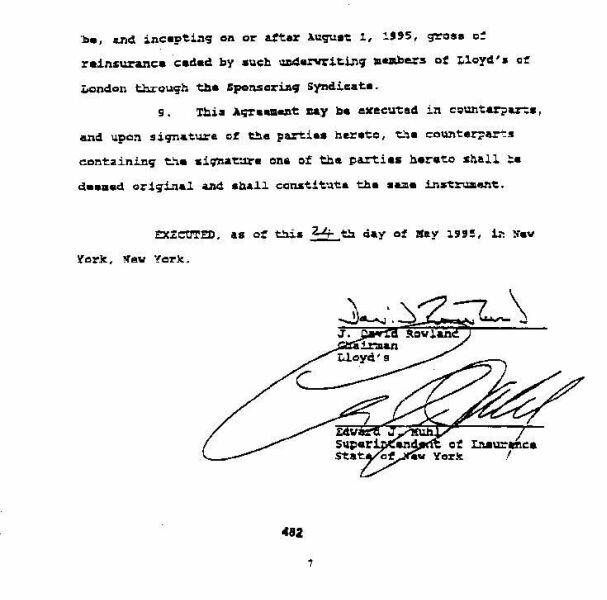 ---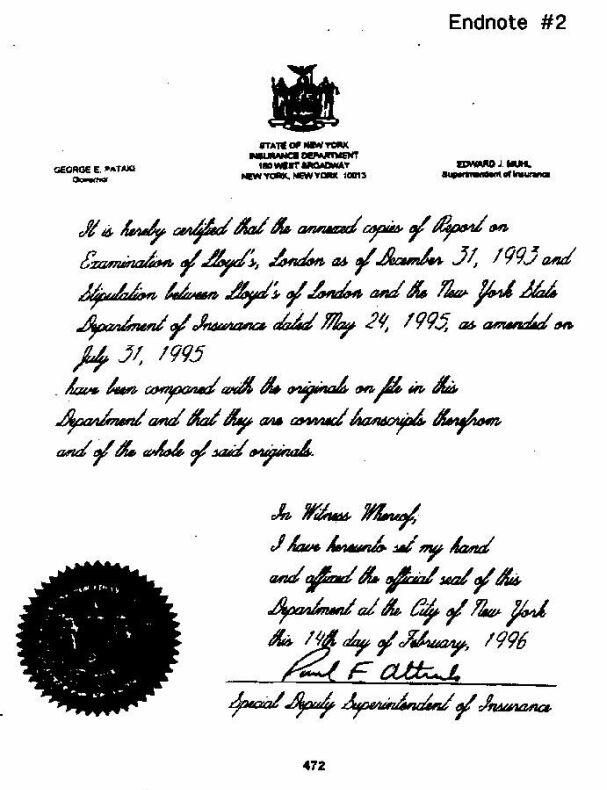 ---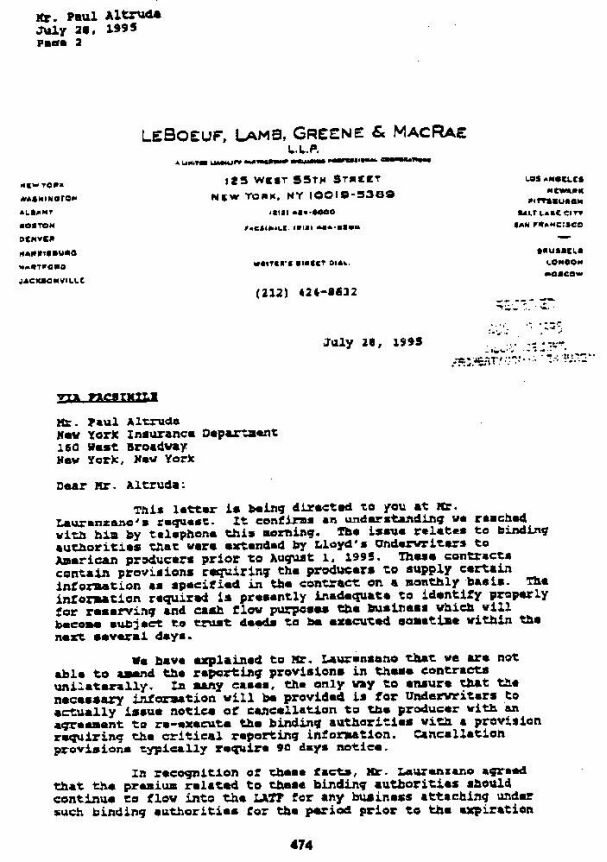 ---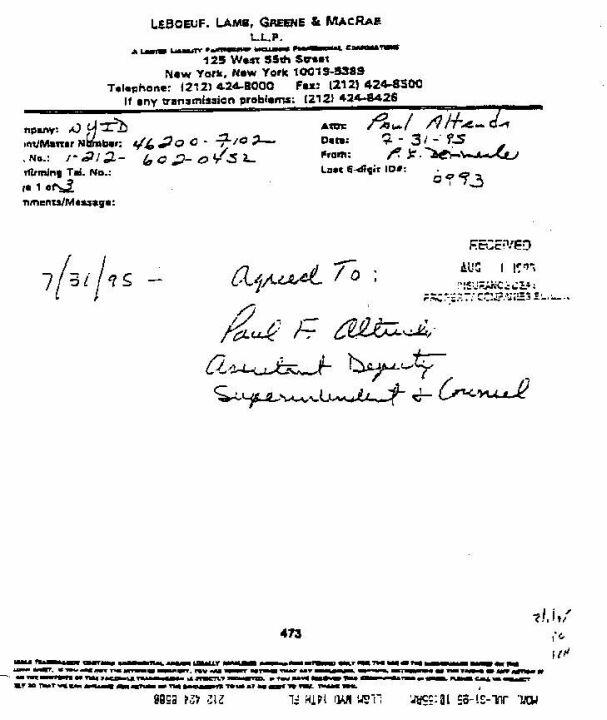 ---
Compilation of Lloyd's aggregate market losses
for the 1997 to 2001 years of account
year
year loss (£ millions)
cumulative (£ millions)
conversion factor
year loss ($ millions)
cumulative ($ millions)
1997

-£209

-£209

£1 = $1.55

-$324

-$324

1998

-£1,065

-£1,274

£1 = $1.55

-$1,651

-$1,975

1999

-£1,952

-£3,226

£1 = $1.55

-$3,026

-$5,000

2000

-£1,720

-£4,946

£1 = $1.55

-$2,666

-$7,666

2001

-£3,110

-£8,056

£1 = $1.55

-$4,821

-$12,487

Sources: Lloyd's Global Reports and announcements
---
NAIC Press Release
October 23, 2001
NAIC Members Clarify Requirements for Lloyd's Trust Funds
WASHINGTON, D.C. (Oct. 23, 2001) -- During a regulator roundtable at the National Association of Insurance Commissioners (NAIC) Commissioners Summit here, the Reinsurance Task Force withdrew its recommendation to allow Lloyd's to temporarily extend the timing of their 100 percent funding requirements relating to their Sept. 11 losses.
The task force's preliminary recommendation was withdrawn following discussions of the NAIC membership and the Reinsurance Task Force regarding the need to fully evaluate any liquidity issues on a syndicate-by-syndicate basis prior to granting an extension applicable to the entire Lloyd's market.
Rather, the task force reported that the 100 percent funding requirement would be maintained for all multiple beneficiary trust reinsures. In the event of any funding levels of less than 100 percent, the task force agreed to work closely with the New York Insurance Department, as domiciliary regulator of the trusts, to perform the necessary analysis and identify appropriate remedies.
The task force also reported that an examination of Lloyd's will commence prior to Dec. 31, 2001, to analyze and verify the loss estimates prepared by Lloyd's. The purpose of the examination is to assess the security provided to U.S. insurers who transfer risk to Lloyd's.
About the NAIC
Headquartered in Kansas City, Mo., the National Association of Insurance Commissioners (NAIC) is a voluntary organization of the chief insurance regulatory officials of the 50 states, the District of Columbia and four U.S. territories. The association's overriding objective is to protect consumers and help maintain the financial stability of the insurance industry by offering financial, actuarial, legal, computer, research, market conduct and economic expertise. Formed in 1871, it is the oldest association of state officials. For more information, visit NAIC on the Web at www.naic.org/pressroom.
---
BBC NEWS, November 5, 2001
Lloyd's in solvency probe
Lloyd's: Confident it can foot the bill
Monday, 5 November, 2001, 17:13 GMT
US regulators have launched an investigation into the solvency of the world's oldest insurance market, Lloyd's of London. If Lloyd's can not meet its liabilities, that could cause serious financial problems, possibly even insolvency for American primary insurers
The National Association of Insurance Commissioners (NAIC) fears Lloyd's will not be able to meet all of its liabilities - estimated at more than $6bn - resulting from the terror attacks of 11 September.
The NAIC has brought in accountants Arthur Andersen to conduct an audit, which is designed to ensure American insurers are not left out of pocket by the unprecedented flood of claims following the suicide attacks on Washington and New York. If at any stage in the process, Lloyd's is deemed unable to meet its liabilities it will be banned from the reinsurance business in the US.
'Serious' liquidity problem
John Oxendine, the commissioner for Georgia who is heading the investigation, said Lloyd's had already given the US authorities figures on its estimated gross and net liabilities.
"We basically want to verify those figures," he told the BBC's World Business Report.
"The scale of the liabilities of 11 September was phenomenal and because of that Lloyd's has admitted that it has a very serious liquidity problem.
"We suspect that liquidity problem is short term. Lloyd's says it is short term and we have no reason to disbelieve Lloyd's," Mr Oxendine added.
'Financial problems'
However, Mr Oxendine added: "We need to come in and verify that it is definitely short-term and not something more serious.
"If it turned out to be something more than a short-term problem and we don't go in to check then we would look like we are not doing our job.
"If Lloyd's can not meet its liabilities that could cause serious financial problems, possibly even insolvency for American primary insurers."
Long-term gains
Lloyd's recently made a cash call on its individual members - the so-called 'names' - to help it meet the cost of 11 September. But it has said it is confident it can easily absorb all of the claims.
In the longer term, the insurance market stands to benefit from a massive increase in insurance premiums. According to newspaper reports, several companies - backed by investment banks - are preparing to join the Lloyd's market, bringing in an estimated $5bn of new capacity.
The final bill for insurers of 11 September has been estimated as high as $40bn.
---
Home - | - Regulation - | - Litigation - | - News - | - Fraud
Reports - | - Contact Truth About Lloyd's